Cleaning Up the Mess 2015: Week 7
Cleaning Up the Mess is here to make sense of what just happened at your weekend-long television party. Who put Goldfish in the blender? And why is the thermostat on 42?
This week: Jim Harbaugh hosted one heck of a dinner party. It was one of the most ornate, delightful party you had ever seen until the rabid Wolverine that Harbaugh keeps as a pet gnawed on some electrical cords, jumped into the Baked Alaska, and shat on the Honey Baked Ham. Art Briles said his goodbyes and then hauled off in his super charged Dodge Challenger with a Radio Flyer wagon containing Dana Holgorsen tied to the bumper. Les Miles just dipped his finger in the cake with the Wolverine hair inside, licked his finger and then said, "what a spread. Love it." Things are getting really weird around this house.
The coronation of "Michigan Back" was supposed to be Desmond Howard, decked out in full Michigan regalia, at the Big House on Saturday night. Howard, one of Michigan's three Heisman trophy winners, has been a vehicle of Wolverine frustration on College Gameday whenever the subject of Michigan's relevance became the focal point of the show. The show's setting in Ann Arbor for this year's Michigan-Michigan State game was awash not in reluctant hope but in unabashed surety that was channeled through the Wolverine ambassador's face. Howard and all of the other Michigan faithful did not have a reason to be sullen or pessimistic either. Jim Harbaugh, in the after glow of three dominant shut-outs, was about to put an end to the seven year Spartan dominance in the battle for the Paul Bunyan trophy.
Statistics and Vegas suggested it was all in the bag due to Michigan State's lackluster performance in their previous three outings. The on-the-field play didn't suggest any different either. Everything seemed to point in Michigan's direction as the clock winded down. With the score at 23-21 in favor of Michigan in the final minute and a .2% win probability for Michigan State, Howard beamed his beautiful smile at a nearby camera and struck a pose that said everything you needed to know about the state of the program in that moment: he gave a thumbs up.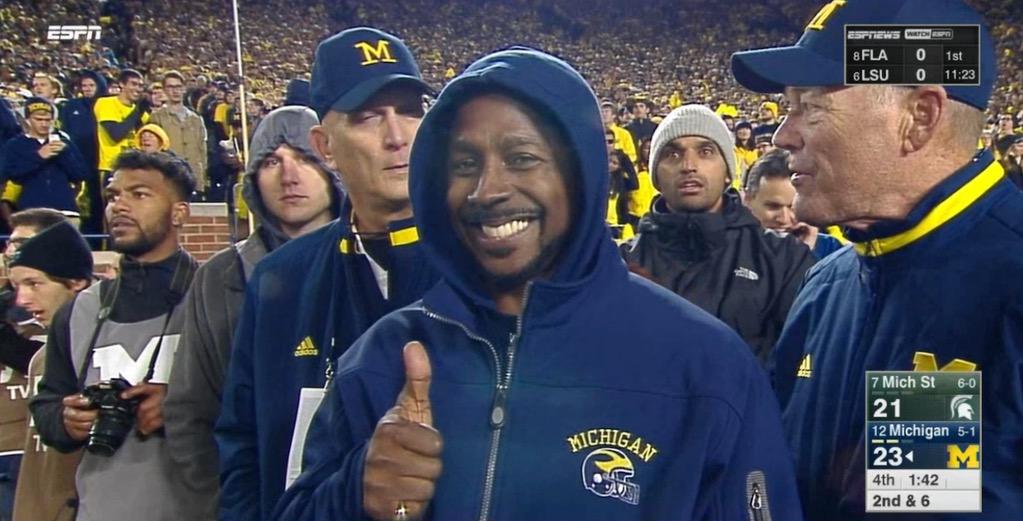 On Michigan's final down at the Michigan 47 yard line, they elected to punt with ten seconds left on the clock to pin the Spartans deep in their own territory. The ball was snapped and Michigan punter Blake O'Neill bobbled the snap. The football hit the ground and before he had time to react, Michigan State swarmed him and then O'Neill accidentally kicked the ball in the way of the Spartans' Jalen Watts-Jackson. Jackson had a lane down the near side line that was opened up by careening blockers that brushed off anyone in Maize and Blue who came near. Michigan State's first lead of the 2015 meeting would be when the clock struck zero with a final score of 27-23. The Spartans would win their seventh game against Michigan in eight years.
Social media was aghast with reactions that ranged from crazed euphoria to dazed bewilderment. Former Michigan State player Le'Veon Bell reenacted 300 in his home. Ohio State displayed the play on their scoreboard which resulted in a chorus of cheers in the minutes leading up to their game against Penn State. It was of the most improbable outcomes that will ever be witnessed in the history of college football. Years of Michigan's fast starts and abrupt stops to national ascendancy since the halcyon days of Bo Schembechler were contained within a nine second time period that felt like a lifetime. It was Pure Michigan.
The other 59 minutes of the match were not particularly exciting. It was mostly a defensive stalemate that was akin to watching two fists collide into each other for the better part of four hours. Both teams couldn't establish the run against either defensive front with Michigan and Michigan State posting a combined 120 yards on the ground. Each team lived and died by the pass and, for the better part of four quarters, Michigan QB Jake Rudock was the more efficient passer with an ending QBR of 39.1 and 168 yards to his name. Spartan QB Connor Cook racked up 368 yards and a touchdown but his hapless 46% efficiency was constantly disrupted by a Michigan secondary that bottled up the receiving corps for the entirety of the game.
Cook was able to find WR Aaron Burbridge creating space against Cornerback Jourdan Lewis, a player on the shortlist for the 2015 Bednarik award. Burbridge recorded 132 yards that were incredibly hard earned. Many of the passes that were caught were with Lewis doing everything short of tying Burbridge's shoe laces together. It was a critical one-on-one matchup that allowed the Spartans to stay in this game for all of sixty minutes and put them in a position to pull off their final gut punch.
Michigan State's improbable and jaw dropping win ruined Michigan's chances at playoff contention in Jim Harbaugh's first year. It also crossed the Wolverines off the list of Big Ten East favorites. Now, Michigan State is neck and neck with an Ohio State team that managed to inject gallons of nitrous oxide and Monster energy drinks into what was previously a stalling offense against the Nittany Lions. The Spartans defense was its usual brick wall self against Michigan but it might be a tall order to contain the Hydra that awaits them on November 21st.
That's a worry that Mark Dantonio probably won't care to look forward to until the week leading up to it. Everything is one game at a time for Michigan State with close wins at Purdue, Rutgers, and now an outright miracle in the Big House under their belt. You can call it magic but the Spartans did the one thing that we all thought Jim Harbaugh's cloud busting Michigan was exceptional at for the past three weeks: playing all four quarters.
***
Stat wizard Bill Connelly at SBNation had a preseason assertion that Les Miles makes a national championship tun every four years or, pretty much, every presidential election year. LSU is currently making the case that this year is no different as they currently sit atop the SEC as the only unbeaten team after a 35-28 win against Florida.
The Tigers' propulsion into the stratosphere of unbeatens has been largely due to the play of human Grand Theft Auto tank Leonard Fournette. While Fournette has been highlight reel worthy against Auburn and South Carolina, the question remained as to whether or not LSU could run the ball effectively against a Top 5 defense. The answer was, as we should have guessed all along, yes.
Fournette racked up a 180 yards and two touchdowns on 31 carries. He ended the night with an average of 5.8 yards per carry against a Florida defense that did everything short of ordering a whole ACME crate worth of instant, reinforced stainless steel to stop him. The biggest show of the night from Fournette was a gain of about seven or eight yards where he punched a flurry of Gator defenders as if they were Henchmen #s 1-3 in a Bruce Lee film. It was one of the night's clearest examples of why the Heisman hopeful's campaign is crystallizing just halfway through the regular season.
It wouldn't hurt Fournette if the Tigers keep winning in the backbreaking fashion that they have been for the first six games of the season. There's no reason to suggest that they can't keep up this pace with their biggest potential for elimination being the perennial November Turn Back the Clock Party against Alabama. The first handful of games in the games season were not indicative of a balanced offensive attack; a look that hedged any optimism that people found within the EVERY FOUR YEARS A KING theory for LSU. But, the Tigers' Brandon Harris is shaping up to be one of the most competent quarterbacks that LSU has had recently to provide something less one dimensional.
Harris was able to complete 13 of 19 passes for 202 yards and two touchdowns against a secondary that includes one of the best corners in the nation in Vernon Hargreaves III. This is the first time since the victory over Ole Miss that Florida has given up 200+ passing yards. Yet, most of the yards that Chad Kelly had managed to attain on Florida came late in the game as the Gators had already sewed up their victory. Harris, on the other hand, wasn't lobbing up passes in a futile race against the clock. He was able to sit in the pocket and find receivers down field and spread the field to give Fournette plenty of room to run.
Doubters of LSU's playoff chances would be remiss if they didn't point out a fake FG called by Les Miles in order to pull away from the Gators in the fourth quarter. This has been Miles' modus operandi even in the Tigers' championship seasons. You don't get to be called the Mad Hatter in college football without having a few whiskey soaked aces up your sleeve. It's something he's known for and the fact that K John Domingue was able to pull off the fake against one of the top defenses in the country was an incredible feat to watch.
LSU's drive towards college football's final four is a path littered with feral animals that can all reach up and bite the Tigers. The most obvious being Alabama as mentioned. A lesser known critter yet still dangerous critter is in the form of Western Kentucky, a 6-1 team in C-USA that has a history of questioning the infallibility of the SEC. Can they do it against a team that has playoff hopes? Probably. It's not like it hasn't been done by another team that was viewed as non-threat due to their mid-major status. All they have to do is look towards Memphis for inspiration.
***
Stanford WR Francis Owusu came down with the catch of the year by not only catching the ball but also UCLA DB Jaleel Wadood. Owusu, with Wadood doing everything short of atomically fusing with him to break up the catch, caught the ball in an act of defiance. An act that was indicative of Stanford's dramatically improved offense which refuses to be the same team that only scored 31 touchdowns on 57 red zone attempts as they did in 2014. The catch showed that the Cardinal are no longer the lumbering beast that would drag its feet toward the end zone before falling flat on its face. It's a rollicking wagon full of Gatling guns that, unfortunately for UCLA, is now on full crank.
Stanford's 56-35 pummeling of UCLA eviscerated any hope for the Bruins to contend in the playoffs. The Cardinal were just a runaway train all night on the legs of RB Christian McCaffrey who rushed for 243 yards and four touchdowns. McCaffrey, who is listed as 201 lbs. and six foot even, broke the school record for rushing yards in a single game. He also recorded an incredible 369 all-purpose yards. All of which was overshadowed by the "can't stop, won't stop" mantra of Stanford that was personified in Owusu's mind melting catch.
UCLA was broken and left in the dust by the first half. The closest the Bruins got to catching the Cardinal was after a Josh Rosen touchdown that put the score at 14-10 with six minutes left in the first quarter. The Cardinal turned around and out paced UCLA three touchdowns to one in the second quarter. It was like watching someone play EA Sports' NCAA Football with a mod that has removed all of the opponents' limbs.
After weeks of watching Utah dominate the Pac-12 storylines, Stanford, despite one loss on their record, looks capable of overtaking anyone on the rest of their schedule. We thought we knew what the Stanford Cardinal would look like after their loss to Northwestern but we had no idea. Now, David Shaw is going to stare blankly at us until we go insane with discomfort.
OTHER LEFTOVER PARTY FAVORS
After a slow start in Waco against West Virginia, Baylor opened up the throttle and blasted the Mountaineers 62-38. WR Corey Coleman had a field day against the Mountaineers as QB Seth Russell connected with him ten times for 199 yards and three touchdowns. Russell was also able to run all over the West Virginia defense amassing 160 yards on the ground. The Mountaineers were supposed to be Baylor's first big test and they made it look like a romp over Rice. The Bears have a backloaded schedule that still includes Kansas State, Oklahoma State, TCU and the now unknowable Texas. It's not going to be easy but with a win over the 14th ranked defense in the S&P+ ratings it's hard to say that they won't get it done.
Utah beat Arizona State 34-18 in one of the ugliest games ever played by a team vying for the national championship. It's the first time since 1976 that the Utes have beaten the Sun Devils, a feat that was more daunting than it seemed going into the late Saturday slot. It included a weird kick return lateral by the Utes that stutter stepped and then led to a face plant into a punch bowl. It was the funniest sight of the night not named Michigan so it gets a pass.
Florida State escaped the jaws of a 2-3 Louisville team on the legs of Dalvin Cook who ran for 163 yards and two touchdowns on 22 carries. A 41-21 box score wasn't indicative of the greater picture but the Seminoles proved that their second half adjustments are some of the best in college football. They have one more game in Atlanta against Georgia Tech before the ACC title match in Death Valley against Clemson.
Ohio State continued to play like the Buckeyes of 2015. The good news is they only did it for one quarter instead of three. Urban Meyer rotated Cardale Jones, JT Barrett, and Braxton Miller in a hell fire circus of touchdowns that Penn State's statistically good shutdown defense wasn't able to contain in a 38-10 match. Urban Meyer now has 20 wins for the fourth time in his coaching career. It's a fun fact that you can show to Michigan fans whenever they show up with a sign made out of pleated khakis.
Boston College gave it a real go against Clemson but were finally done in by the Tigers in the third quarter. Clemson ho-hummed their way to a 34-17 home win that further solidified their place as college football's best. Their two opponents are away in Miami and Raleigh before they get the best of their division in Florida State on November 7th.
After a win over Northwestern, Iowa is now 7-0 for the first time since 2009 and they don't faced another ranked opponent again until a possible Big Ten championship game. The Hawkeyes could very likely go undefeated and the fact that none of you are laughing about how ridiculous that will be when it happens shows that you have no sense of humor. Are you really going to tell your kids about an undefeated Iowa with such a stern look on your face?
Alabama just ate up clock for four quarters against Texas A&M in a 41-23 romp. Aggie fans had to be delighted that they at least put points on the board this go around.
Your Alma Mater's Probable Next Head Coach Justin Fuente took a 13th ranked Ole Miss team out of contention in one of the biggest wins for the Memphis Tigers in school history. The Rebels lost 37-24 for the first time since 1976 against an unranked, non-conference opponent. If your team is in dire need of a head coach, the guy who was able to do that to Ole Miss to keep the Tigers undefeated might be your guy.
Notre Dame was able to keep together against USC in a 41-31 shootout that was riddled with trick plays, long throws and a blocked punt. The Irish are still a team with a loss to Clemson but that loss looks better and better for any playoff chances they may have should the Tigers lose.
TCU didn't just walk into Jack Trice Stadium in Ames and pull out a 45-21 win. They earned it with every Trevone Boykin emoji face.
In Tom Herman's first year as head coach, Houston is now 6-0 and just pasted the hell out Tulane in a 42-7 slaughter. Once again, if you're team is in dire need of a head coach, LOOK HERE!