Who Is It That Can Tell Me Who I Am?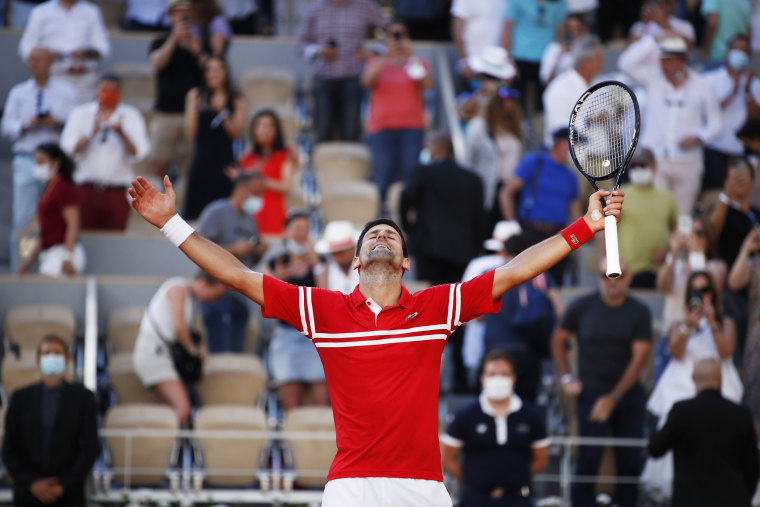 It's one thing to win a Grand Slam in the first place – to be physically gifted enough from the start, to train hard enough to be the best tennis player in your town, and then your region, and then your country, and eventually the world, at least for a moment. To do that once is a monumental feat, a testament to all the things we're told we should aspire to cultivate.
On Sunday, Novak Djokovic won his nineteenth singles title and second French Open championship. Nevermind that he is now only one behind Roger Federer and Rafael Nadal for the men's record for career Slams – he had to beat Nadal, the clay king and thirteen-time champion at Roland Garros to do it, and then overcome a two-set deficit, something he'd never done in a Slam final, to Stefanos Tsitsipas. All the while, he never looked in doubt.
Friday's four-set semifinal between Djokovic and Nadal was an instant classic, one that was garnering "greatest match ever" fervor from no less than Chrissie Evert. Nadal's ongoing ankle issues returned at exactly the wrong time, and he went out with not much more than a whisper.
From there, it was Djokovic's title to lose, so long as he didn't get in his own way, as had happened at the US Open a year ago. While Dominic Thiem finally broke the supremacy of the Big Three (née Four), it was at least in part due to Djokovic's largest-ever unforced error, and between that and the Year That Lasts Forever, it didn't feel quite real.
When Djokovic successfully defended his Australian Open title in February, it felt like a restoration, a reminder – "Nature is healing." Nothing has ever felt more inevitable than Rafael Nadal in Paris, and even after Federer withdrew, the 39 years he carries popping out of the luggage and telling him not to bother with this one, the Nadal-Djokovic match felt like a final.
Even so, no one had ever beaten Nadal at the French Open and lived to talk about it – Djokovic had done it once before, as had Robin Söderling, and neither ended up winning the tournament afterward. Beating Nadal on clay seems to take so much out of a person; who needs a trophy when you have several iterations of the same, clay-stained outfit from a victory over the king of clay?
Tsitsipas' path to the final took him through the likes of John Isner, Daniil Medvedev and Sascha Zverev, with the latter match looking suspiciously like the final right up until Tsitsipas closed the deal[1]. Like the men he beat and everyone else, Tsitsipas has been knocking on the door for a while, but this was his first Slam final. For a while, he looked the part.
Novak being Novak, a two-set deficit in a major final was but an inconvenience. With Stefanos Tsitsipas playing his heart almost visibly out of his chest, the first Greek player ever to even reach a final let alone be on the brink of winning one, Djokovic hung back, the only notable alteration in his entire countenance being that he took his hat off once the shadow extended over him.
Up two sets, Tsitsipas nevertheless carried doubt, perpetually asking himself if he was good. His father sported a mask which featured a caricature of his son also wearing a mask, the precise counter to the Djokovic pocket haphazardly dealing with their own coverings, if at all. In an age of uncertainty, Stefanos Tsitsipas embodied what an average viewer might have been feeling; Novak Djokovic has never represented much more than his own commitment to the various ephemera that capture his imagination between points: the appetite for grass; the obvious and since-largely abandoned need for fan attention; the friendships with other transcendent weirdos from his homeland[2].
A word or two on Novak Djokovic: at this point, having won the career Slam twice over along with his many other achievements, he might be the single greatest men's tennis player ever, and at the rate he's going, there may not be an argument by the end of this calendar year.
Roger Federer is the person you want to represent tennis as a game, as you've known it, and he seems like the guy you want to know if you need to credibly breach security someplace; Rafael Nadal is what you feel when you watch an especially good tennis match – the brawn and weight of every single thing happening all at once to an impossibly tan sorcerer, the brilliant bisexual lighting of any halfway-decent event turning you on to things you didn't think about before they happened. Andy Murray is/was/is one of us – you can see it evidently on his face every time he does anything.
Djokovic, though, is something else, and I'm not sure exactly what. The thought experiment of designing [x-person] for [x-sport] in a lab has us looking at people like Kevin Durant, Brittney Griner, Clayton Kershaw and Calvin Johnson and thinking to ourselves, "How much better can it get than this?" Usually that naturally captures unreal physicality; Djokovic is only one listed inch taller than Federer and Nadal.
Ever since he broke through as a 20-year-old at the 2008 Aussie Open, Djokovic has been the platonic ideal of a tennis player – even at her most dominant, Serena Williams reflects her humanity to some extent. As a distant-but-constant observer, one can't help but feel like Novak Djokovic's world at any given moment encompasses the point that he's playing.
For Tsitsipas, this is a breakthrough anyway. If he never reaches another Slam final – which I don't expect to be the case, to be clear – it will be a shame, but his play in this tournament is the proof of purpose that he might need, regardless of the result. He took down fellow princes-in-waiting and had a two-set lead on the world No. 1; really, it was insane that he ended up that close as a 22-year-old. Surely more awaits.
Djokovic's complete slaying of the dragon, from Nadal through the dominant three sets he played to win in the final, isn't quite a coronation, but maybe he doesn't need that. For a player who once thrived on a crowd's dismissal, Djokovic seems to have come full circle in his idiosyncratic way. During a changeover on Sunday, Novak took notice of the sparse crowd and paid them their due. Here he was: Novak Djokovic, in full.
---
[1] Zverev's body language in that five-set endeavor similarly mirrored Tsitsipas' – after going down two sets, he charged back to tie before letting the fifth get away from him, never looking in control, a permanent inhabitant of his own mind.
[2] You might end up feeling empowered and, at your own risk, say something like, "Djokovic and Jokić both had COVID-19, and look how they're doing!" To which my only response will be, "But think of how they could've done had it not been for—"