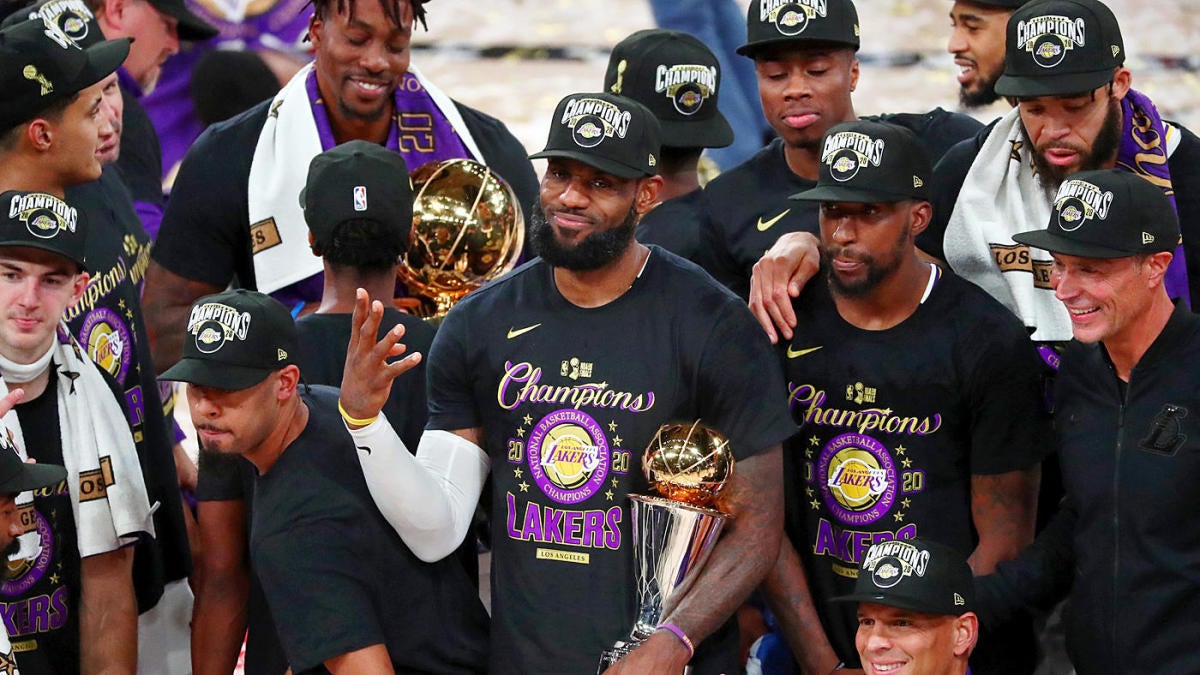 On Sunday, arguably the greatest player ever stepped in, hunkered down and defeated a worthy opponent, one whose run in recent months has faced heavy skepticism and much detraction. Though the favored prevailed, there was enough seeded doubt to keep things interesting. As it stood, however, the king remained the king, until further notice.
Indeed, the Los Angeles Lakers won their sixteenth NBA championship and seventeenth as a franchise since 1946, tying the Boston Celtics for the most of any franchise, with LeBron James claiming his fourth title and fourth Finals MVP. If he isn't already there, Anthony Davis is very nearly at a point where his Hall of Fame candidacy is ensured at 27. Against the tapestry of a global pandemic and election year tensions stateside, the NBA committed to the bubble, and the Lakers committed to defense in Game 6. Sometimes, it seems, lockdowns work.
The numbers, of course, are staggering: 356 days after the season began, the Lakers closed out the Heat in six games. Of the 71 NBA seasons since 1949-'50[1], the Lakers have been in the Finals 30 times, with 26 coming since their move to Los Angeles in 1960. In seventeen seasons in the NBA, LeBron James has reached the Finals ten times.
Jimmy Butler stood up to the mighty mighty Lakers like Diogenes to Alexander – sure, you're more well-off than I am via circumstance, but I'm going to alter as much of my circumstance as I can, and that involves shoving you out of the way. Butler, by the way, joined LeBron as the only players to lead their teams in points, assists, rebounds, steals and blocks in the Finals since the NBA started tracking steals and blocks in 1973-'74.
The relative letdown of Game 6 seemed an inevitable fallout from the previous two games, and from Game 5 in particular. Butler was clearly exhausted at the end, grasping for the basket stanchion on his way to go-ahead foul shots. He had two triple-doubles in the Finals and came within reach of two more. With both of Bam Adebayo and Goran Dragić nursing their own ills, Butler had to be even more of everything than he had been all season for the Heat, especially in the bubble.
By the midpoint of the series, a plurality of fans and observers noted how Miami's Finals run had positioned the Heat as a premier free agency destination. Whispers of "Giannis" echoed among the video screen fan sections and in discussion forums. #HeatCulture had again won out, with Pat Riley's shadow infinitely growing.
Whether that manifests itself in a truly monumental free agent splash at some point in the next two summers remains to be seen. The Heat seem to be here to stay. After years of bouncing around the league, the superstar without roots, Jimmy Butler, at least, seems to have found the maximized version of himself in south Florida, with a gaggle of complementary players and would-be stars surrounding him.
---
The discussion regarding an asterisk tied to this championship should only arise if the asterisk signifies that it was the toughest title in league history to win. Following a months-long pause due to Covid-19, a virus which many people regarded with frivolity until Jazz center Rudy Gobert contracted it and almost single-handedly shut down the NBA in March, the league resumed play in late July.
The NBA had to modify its schedule and prevent live fans from attending while attempting to maintain as much of the feel of an NBA game as possible. Simultaneously, the murder of George Floyd again brought police brutality and racial injustice to the forefront of the public eye.
Given the NBA's position as a cultural touchstone as a predominantly Black league, it seemed paramount to address issues both centrally and to allow players in both the NBA and WNBA to utilize their own platforms.
Though the physical result was a rather cynical and corporatized distillation of a message through league-approved jersey messaging, ad time and on-court graphics, some concrete actions – particularly following the Milwaukee Bucks' wildcat strike – spoke to the league's actual willingness to engage. Even so, the sterilization of messaging and stopping short on other player demands proved, once again, that everybody serves somebody.
For the most part, the league succeeded in its own aims, despite the detractions of fans and continued faux-outrage regarding ratings. You can always tell a person doesn't really care about the NBA if they are quick to very loudly proclaim their intention to stop watching the game if players exercise any more power than they previously had. The First Amendment is all well and good until you say something with which someone else disagrees.
---
With this championship, LeBron James – as well as Laker teammate Danny Green – has won four titles with three different teams, matching the record that John Salley and Robert Horry hold. With all due respect to Salley and our site's namesake, neither of those gentlemen, nor Green, was even the second-best player on any of their championship teams. James has four Finals MVPs to accompany his titles, second only to (who else?) Michael Jordan.
There will never be an objective answer to this, but LeBron's longevity and health are making any gap that exists between those two players slimmer by the year[2]. This specific championship is one of the most unique achievements in sports history. LeBron is nearly 36 years old, and he continues to hone and change his game while remaining the dominant force we've known him to be since he was 18 years old.
For literally half of his life, LeBron James has been among the very best on the planet at his profession. He has opened a school and done more with his platform than most career politicians manage in their lifetimes. Though his own claims of hearing about being washed seem exaggerated, he nevertheless continues to defy expectation, an incredible feat for someone with so much placed on him at such an early age.
The Lakers will be back. An empowered Anthony Davis, with playoff success finally under his belt, may enter next season as the favorite to pull a Giannis double of MVP and Defensive Player of the Year. Rajon Rondo is the only person ever to win a title with both of the Celtics and Lakers[3]! "Dwight Howard: NBA champion" is a phrase not even Kobe Bryant likely considered for terribly long.
As ever, though, this was about LeBron. The opportunity to return a staple franchise to glory in the same year one of that team's iconic players passed away is Tinseltown magic too corny even for a Netflix series, but that's what we just watched. It's a continually moving target, but whenever the NBA returns, LeBron will be there, ready to continue his inexorable march to immortality.
---
[1] The league's own history pins its start in 1946, as the Basketball Association of America. The NBA adopted its current name with the merger of the BAA and the National Basketball League in 1949; therefore, that's when we are saying it began. Having said that, we're also including the Minneapolis Lakers championships here, of which there are five.
[2] Nevermind Kareem Abdul-Jabbar, whom James is likely to pass in all-time scoring if he keeps something like his current pace, nor the other players who typically end up on the fringes of this conversation, like Wilt Chamberlain, Bill Russell and Magic Johnson.
[3] Don't look now…but Rondo might be a Hall of Famer at this point. Perhaps not necessarily in the first or second ballot, but depending on when his candidacy comes up, he may have solidified his standing with an excellent Playoff Rondo appearance off the bench Sunday night. Take that, Zach Lowe.